Burlington launches app; makes everyone 'appy
February 16, 2017
Posted by: Jacqueline O'Hara


The City of Burlington is wishing everyone an 'Appy Family Day by launching a free City of Burlington app.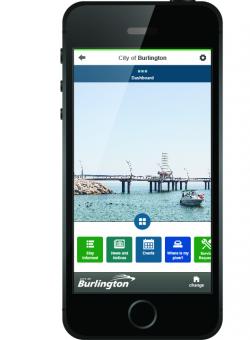 The app is available for android, iOS and Blackberry. The app features easy-to-reach information for skating; swimming and recreational program times; festivals and events; city meetings; news; and emergency alerts.
The information included in the app was chosen by more than 400 residents who participated in an online survey. A total of 92 per cent of survey respondents said they visit Burlington.ca, and 58 per cent said they visit Burlington.ca using a phone or tablet.
For more information, including links to download the app, visit www.burlington.ca/app.
Quick Facts
The following is a list of buttons and information on the app:
Stay Informed - Choose if you would like to receive notifications for your area (based on your location setting).
News and Notices - View updates and media releases for parks and recreation, facility closure, weather announcements, road closures, transit and more.
Events - View upcoming events such as city meetings, festivals and recreation activities.
Where's my Plow? - This seasonal information will open a new window to view which streets and roads have been plowed.
Service Requests - This will open a new window to See Click Fix where anyone can report maintenance issues such as graffiti/tagging, potholes or street lights.
Parking - Pay for parking downtown or fill out a parking exemption form.
Facebook - View the latest Facebook posts from @cityburlington.
Twitter - View the latest Tweets from @cityburlington.
Quotes
Jeff Crowder, Communications Advisor
"We know more than 50 per cent of our web traffic is from mobile devices, so it makes sense to provide an easy-to-use, mobile portal for communicating to residents. The app will provide all the information a person needs on a day-to-day basis and gives us another important venue to send out emergency information."
Links and Resources
For more information :
Organization:
City of Burlington
Address:
Box 5013, 426 Brant St.
Burlington, Ontario
Canada, L7R 3Z6
www.burlington.ca